From A to Z: a potential role for grid cells in spatial navigation
Neural Systems & Circuits
2012
2:6
Received: 28 February 2012
Accepted: 18 April 2012
Published: 30 May 2012
Abstract
Since their discovery, the strikingly regular and spatially stable firing of entorhinal grid cells has attracted the attention of experimentalists and theoreticians alike. The bulk of this work has focused either on the assumption that the principal role of grid cells is to support path integration or the extent to which their multiple firing locations can drive the sparse activity of hippocampal place cells. Here, we propose that grid cells are best understood as part of a network that combines self-motion and environmental cues to accurately track an animal's location in space. Furthermore, that grid cells - more so than place cells - efficiently encode self-location in allocentric coordinates. Finally, that the regular structure of grid firing fields represents information about the relative structure of space and, as such, may be used to guide goal directed navigation.
Keywords
Grid Cell
Entorhinal Cortex
Place Cell
Place Field
Residue Number System
Introduction
Half a century's worth of research has established, beyond doubt, the role of the hippocampal formation in memory. Damage to the human hippocampus and surrounding cortex results in profound amnesia for events occurring after the insult and also for those occurring beforehand in a temporally graded fashion [
1
,
2
]. Such patients exhibit impaired spatial cognition, have difficulty navigating [
3
], remembering the relative location of objects [
4
], and even visualizing imagined scenes [
5
]. In model organisms, such as the rat, lesions of the hippocampal formation produce similar deficits, including an impaired ability to navigate [
6
] and failure to recognize novel spatial arrangements [
7
]. Single unit recordings made in the early 1970s first intimated a neural basis for these functions in the form of place cells (Figure
1
a), hippocampal pyramidal neurons with spatially localized firing fields (place fields) [
8
]. Prompted by this discovery, O'Keefe and Nadel proposed that place cells constitute part of a hippocampal network which functions as a cognitive map; representing an animal's location within its environment relative to other objects and, hence, enabling flexible navigation strategies, including novel short-cuts and detours [
9
]. Furthermore, they suggested that this cognitive map is the basis of human episodic memory, the spatial framework being embellished to encode the content of specific events.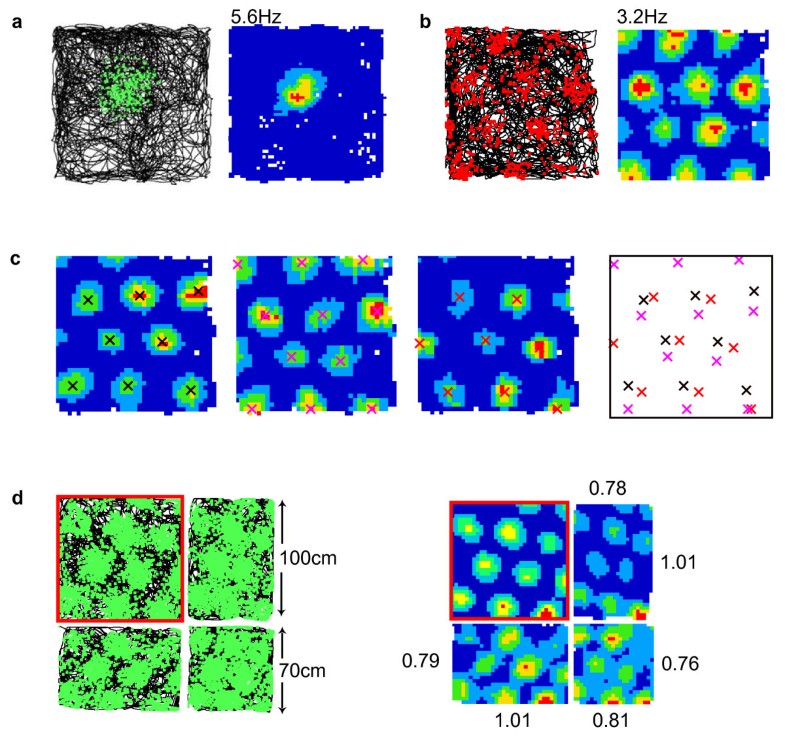 While place cells provide an undeniably spatial signal, attempts to derive models that would support flexible navigation proved difficult for several reasons. First, it was initially believed that place cells simply encoded an animal's current location, with no capacity to represent the route to, or site of, a navigational goal. Second, the sparsely distributed, irregular place fields of an ensemble of place cells do not obviously convey information about the relative proximity of those fields in a given environment. Direct connectivity between place cells, such as that found in CA3, could encode the distance between place fields [10]. However, the synaptic weight matrix would have to be learned for each new environment and could not support accurate navigation across unvisited areas, a feat that many animals, including rodents, are capable of [11]. Both these barriers now seem to be falling away. The increasingly well understood phenomena of preplay and replay in ensembles of hippocampal place cells [12, 13] together with the discovery of entorhinal grid cells with periodic spatial firing fields [14, 15], indicate that the representation of space in the hippocampal formation is both non-local and spatially structured. Here we argue that grid cells, and not place cells, principally encode self-location in allocentric coordinates and, furthermore, that they also represent the relative proximity of spaces in an animal's environment. Finally, because grid cells encode spatial information in this way, they are likely to be a key part of a network supporting vector based navigation, which would, for example, enable an animal to travel the shortest route between its current location and a distant goal.
Conclusions
It seems clear that the regular firing pattern of grid cells represent an efficient strategy for encoding self-location in allocentric coordinates. Furthermore, that grid cells and place cells form part of a network that combines idiothetic and allothetic cues to accurately track an animal's movement through space. It is also clear that the activity of a population of grid cells encodes information about the relative structure of space. What is currently unknown is whether this metric is accessible to other structures in the brain and, if so, whether it is employed during navigation. Existing results and theoretical models suggest this may be the case, but it will require more precisely targeted investigations using new techniques, such as optogenetics, to confirm or deny this hypothesis.
Note added in proof: Since submission of this manuscript two computational models that incorporate grid cells and perform goal directed spatial navigation have, in fact, been published [86, 87].
Declarations
Acknowledgements
This work was supported by the Wellcome Trust U.K. The authors would like to thank Neil Burgess for assistance in preparing this manuscript.
Authors' Affiliations
(1)
UCL Inst of Cognitive Neuroscience, London, UK
(2)
UCL Inst of Neurology, London, UK
(3)
UCL Inst of Behavioural Neuroscience, London, UK
Copyright
© Barry and Bush; licensee BioMed Central Ltd. 2012
This article is published under license to BioMed Central Ltd. This is an Open Access article distributed under the terms of the Creative Commons Attribution License (http://creativecommons.org/licenses/by/2.0), which permits unrestricted use, distribution, and reproduction in any medium, provided the original work is properly cited.