Distributed network organization underlying feeding behavior in the mollusk Lymnaea
Neural Systems & Circuits
2012
2:4
Received: 3 November 2011
Accepted: 17 April 2012
Published: 17 April 2012
Abstract
The aim of the work reviewed here is to relate the properties of individual neurons to network organization and behavior using the feeding system of the gastropod mollusk, Lymnaea. Food ingestion in this animal involves sequences of rhythmic biting movements that are initiated by the application of a chemical food stimulus to the lips and esophagus. We investigated how individual neurons contribute to various network functions that are required for the generation of feeding behavior such as rhythm generation, initiation ('decision making'), modulation and hunger and satiety. The data support the view that feeding behavior is generated by a distributed type of network organization with individual neurons often contributing to more than one network function, sharing roles with other neurons. Multitasking in a distributed type of network would be 'economically' sensible in the Lymnaea feeding system where only about 100 neurons are available to carry out a variety of complex tasks performed by millions of neurons in the vertebrate nervous system. Having complementary and potentially alternative mechanisms for network functions would also add robustness to what is a 'noisy' network where variable firing rates and synaptic strengths are commonly encountered in electrophysiological recording experiments.
Keywords
Distributed organization Lymnaea Molluscan feeding behaviorNetworksNeurons
Introduction
Work on rhythmic motor behaviors in invertebrates, such as locomotion, eating and heartbeat, has been extremely valuable in providing general insights into how the nervous system generates behavior [
1
,
2
]. An example of a rhythmically active motor network that has made significant contributions to this field is the feeding system of the pond snail,
Lymnaea
. An advantage of this system is that the various mechanisms that are important in generating and controlling rhythmic motor behaviors such as pattern generation, initiation ('decision making'), modulation, and background variables, such as hunger and satiety, can all be investigated in the same network [
3
,
4
]. In this review, we focus on the neural mechanisms for the rhythmic motor behavior, grazing, that underlies food ingestion in
Lymnaea
[
5
]. A regular program of rasps or bites allows the snail to ingest the uniform algal film upon which the snail often feeds. Food collected by rasping the edges or surfaces of floating plant material also is consumed by similar feeding movements [
5
]. The three movements that generate an ingestive feeding cycle (Figure
1A
) occur as a continuous sequence, irrespective of the type of food substrate, and so constitute a single behavior. A central pattern generator (CPG) circuit generates the ingestive motor pattern [
3
]. The cellular organization of this CPG circuit and its control by various types of 'higher order' decision making and modulatory interneurons (Figure
1B
) has been the major focus of research [
3
]. In other gastropods, such as
Aplysia
, ingestion of food pieces involves two behaviors, biting and swallowing and a third behavior, egestion (rejection of food), also is carried out by the same muscular organ [
6
]. The major aim in
Aplysia
has been to understand how different behaviors in the same general category can be generated by the same circuit. In this system, different motor programs are selected by combining activities in different types of descending higher-order interneurons called the cerebrobuccal interneurons (CBIs) [
7
]. Choice of behaviors by the CBIs occurs by the selection of other types interneurons, lower in a hierarchical architecture, that form a modular network. Each type of module implements a different type of motor pattern that underlie the three behaviors [
8
]. In another gastropod,
Pleurobranchaea
, the selection of alternative behaviors such as feeding and swimming (swimming inhibits feeding) has been the main interest and inhibitory synaptic interactions between different CPG circuits is the mechanism for behavioral choice [
9
].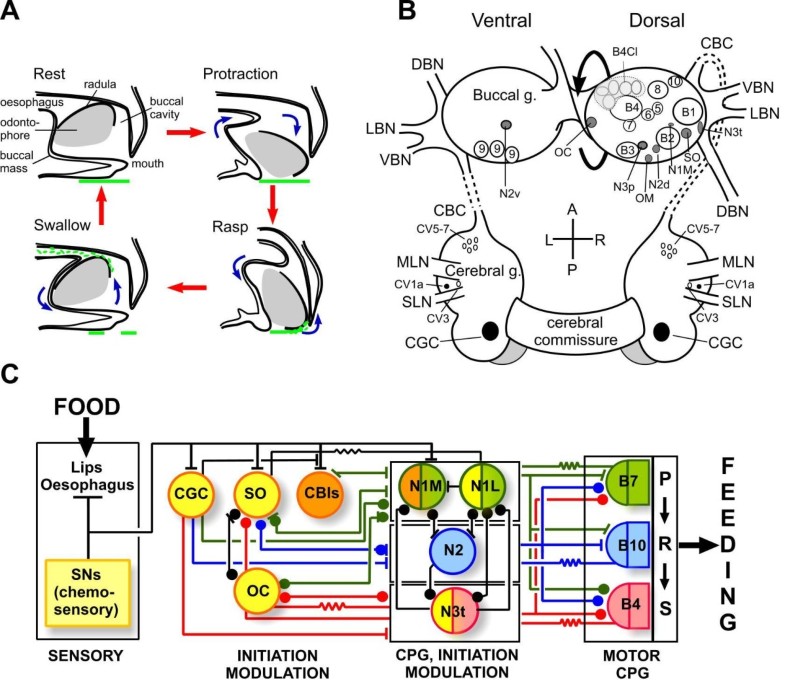 There has been an evolution of ideas on the organization of the Lymnaea feeding system following the accumulation of more data on the sensory basis of feeding activation [4, 10–14]. A previous hierarchical model [5] has been replaced by a distributed model in which individual neurons have shared and overlapping roles, with multifunctionality a common feature (summarized in Figure 1C). When sensory stimuli are applied to the lips and esophagus and compared with the results of 'artificial' neuronal stimulation by current injection, it was realized that direct feeding activation was widely distributed, not just to higher-order interneurons such as the CBIs, but also to CPG interneurons [15]. Thus the 'decision' to feed is not the property of a single class of hierarchically-organized neurons. In addition, rhythm generation is shared by CPG interneurons and motoneurons and modulatory functions are also widely distributed across the network [4, 16, 17]. A distributed type of organization also is found in other invertebrate motor circuits [18]. In the leech, the same group of interneurons fire during more than one behavior, indicating multifunctionality [19]. The decision to swim or crawl is carried out by a population of 'covarying' interneurons that show a pattern of activity that is specific to one of the two behaviors. Remarkably, manipulating the membrane potential of just one of these covarying neurons significantly biases the behavior towards either swimming or crawling depending on whether the cell is depolarized or hyperpolarized [20]. Within a CPG circuit, such as the pyloric CPG of the crustacean stomatogastric system, rhythm generation is not the property of any particular neuron but depends on a combination of endogenous plateauing and network synaptic connectivity that is distributed across the whole network [2, 18].
Background
The analysis of feeding in
Lymnaea
began with electromygram (EMG) recordings and cinephotography of the buccal mass (feeding apparatus) [
21
]. This analysis revealed that ingestion is comprised of a repeated sequence of three distinct buccal mass movements, protraction, rasp and swallow, with a rest period between each cycle (Figure
1A
). During each feeding cycle, the mouth opens and the toothed radula (or tongue) is scraped forward over the food substrate (the protraction phase of the feeding cycle). Food is then lifted into the mouth (rasp phase), which is closed while the food is being swallowed (swallow phase) and this sequence of movement is repeated during bouts of feeding that consists of up to 100 cycles [
5
]. Although the structure of the buccal mass is complex, consisting of 46 muscles, analysis is simplified by the finding that EMG and correlated motoneuronal activity is confined to one of the three phases of buccal mass movements shown in Figure
1A
[
21
]. It was found that protraction, rasp and swallow phase muscles in the feeding apparatus are driven by a network of motoneurons (types B1 to B10; see Abbreviations section for all definitions of neuron type) [
21
–
24
] located in the buccal ganglia (Figure
1B
) [
21
]. Four other types of rhythmically-active motoneurons (CV3, CV5 to CV7), located in the cerebral ganglia (Figure
1B
), open and close the mouth [
25
]. Each phase of the feeding rhythm in all these motoneurons is generated by one of three main types of CPG interneurons N1 (protraction phase), N2 (rasp phase) and N3 (swallow phase) [
22
,
26
] providing sequences of excitatory and inhibitory synaptic inputs to motoneurons active in the different phases of the feeding rhythm (Figure
1C
). The N1, N2 and N3 interneurons each have two subtypes N1M (medial), N1L (lateral), N2d (dorsal), N2v (ventral), N3p (phasic), N3t (tonic) (Figure
1B
) and the firing patterns (Figure
2A
), endogenous properties (Figure
2A
), synaptic connectivity (Figure
2B
, left) and transmitter content (Figure
2B
, left) of these six types of neurons are known in considerable detail [
26
–
30
]. There are a variety of other neurons (Figure
1B
), cerebrobuccal interneurons, slow oscillator (SO), octopamine-containing cells (OC) and cerebral giant cells (CGC) that control the output of the feeding CPG (Figure
1C
) [
3
,
31
,
32
] and centrally-located esophageal mechanosensory neurons (OM) that respond to esophageal stretch [
33
]. In summary there are 9 types of CBIs (including the CGCs), 6 types of CPG interneurons, 15 types of motoneurons, 3 types of modulatory interneurons and 1 type of mechanosensory neuron making a total of approximately 100 neurons. There are likely to be yet more types of motoneurons as there are muscles deep in the buccal mass that have no known innervations [
21
] and mechanosensory neurons that respond to touch of the lips [
34
], movements of the buccal mass and radula that have not so far been investigated. Sensory inputs from peripheral chemoreceptors located in the lips and esophagus provide the stimulus for rhythmic feeding movements (Figure
1C
) [
35
]. Touch provides a component of the food stimulus but rather being involved in the activation of feeding it strengthens the rasp phase of the feeding cycle when contact with the food substrate (Figure
1A
, rasp) provides tactile input [
34
]. There are weak spontaneous feeding patterns that are observed both behaviorally and in isolated ganglia but these are slow and irregular compared with those observed in the presence of a strong feeding stimulus such as sucrose [
3
]. Continuous artificial stimulation of the SO is often used to drive a feeding rhythm (Figure
2A
) in the isolated CNS [
36
]. Note that Figure
1C
is an important reference for the rest of the review because it shows the network functions of the various types of neurons in the feeding circuit based on the current distributed model of the feeding network.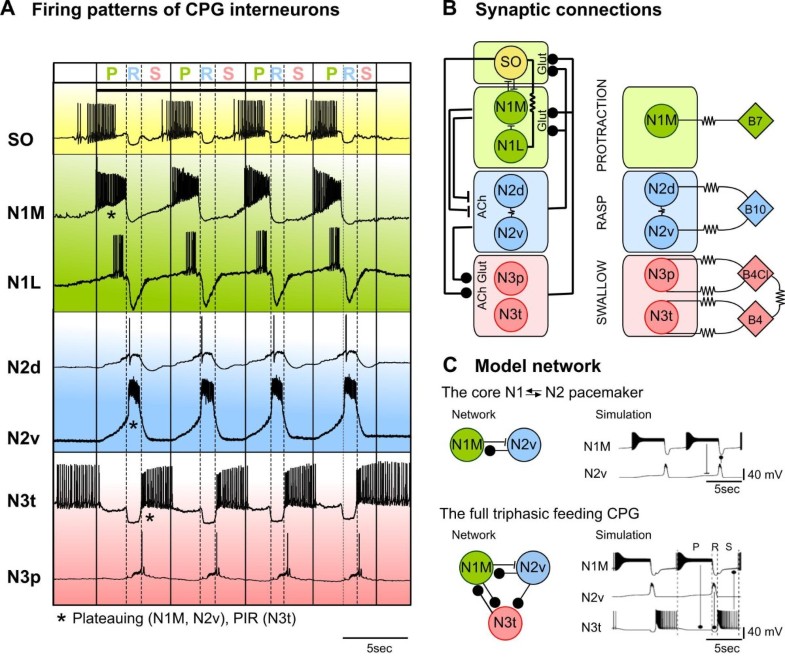 Conclusions
The evidence reviewed here supports a distributed type of network organization (Figure 6B) rather than a linear hierarchical model (Figure 6A).
Abbreviations
B1:

Buccal 1 (motoneuron)
B2:

Buccal 2 (motoneuron)
B3:

Buccal 3 (motoneuron)
B4:

Buccal 4 (motoneuron)
B4Cl:

Buccal 4 cluster (motoneurons)
B5:

Buccal 5 (motoneuron)
B6:

Buccal 6 (motoneuron)
B7:

Buccal 7 (motoneuron)
B8:

Buccal 8 (motoneuron)
B9:

Buccal 9 (motoneuron)
B10:

Buccal 10 (motoneuron)
CA1:

Cerebral anterior 1 (cerebrobuccal interneuron)
CBIs:

Cerebrobuccal interneurons
CGC:

Cerebral giant cell (modulatory interneuron)
CL1:

Cerebral lateral 1 (cerebrobuccal interneuron)
CT1:

Cerebral tentacle 1 (cerebrobuccal interneuron)
CT2:

Cerebral tentacle 2 (cerebrobuccal interneuron)
CT3:

Cerebral tentacle 3 (cerebrobuccal interneuron)
CV1a:

Cerebral ventral 1a (cerebrobuccal interneuron)
CV1b:

Cerebral ventral 1b (cerebrobuccal interneuron)
CV1c:

Cerebral ventral 1c (cerebrobuccal interneuron)
CV3:

Cerebral ventral 3 (motoneuron)
CV5:

Cerebral ventral 5 (motoneuron)
CV6:

Cerebral ventral 6 (motoneuron)
CV7:

Cerebral ventral 7 (motoneuron)
N1M:

N1 medial (central pattern generator interneuron)
N1L:

N1 Lateral (modulatory interneuron/central pattern generator interneuron)
N2d:

N2 dorsal (central pattern generator interneuron)
N2v:

N2 ventral (central pattern generator interneuron)
N3p:

N3 phasic (central pattern generator interneuron)
N3t:

N3 tonic (central pattern generator/modulatory interneuron)
OC:

Octopamine-containing interneuron (modulatory)
OM:

Esophageal mechanoreceptor
PlB:

Pleural buccal neuron (inhibitory interneuron)
PIR:

Post-inhibitory rebound
SO:

Slow oscillator (modulatory interneuron).
Declarations
Acknowledgements
I thank Dr Ildiko Kemenes and Dr Kevin Staras for their help in producing the figures and the BBSRC for financial support.
Authors' Affiliations
(1)
School of Life Sciences, University of Sussex, Falmer, UK
Copyright
© Benjamin; licensee BioMed Central Ltd. 2012
This article is published under license to BioMed Central Ltd. This is an Open Access article distributed under the terms of the Creative Commons Attribution License (http://creativecommons.org/licenses/by/2.0), which permits unrestricted use, distribution, and reproduction in any medium, provided the original work is properly cited.